Now Boarding: Curren$y & Chamillionaire talk Le$ on Jet Life
Music
Thursday, 31 March 2016
3896 Views
0 Comments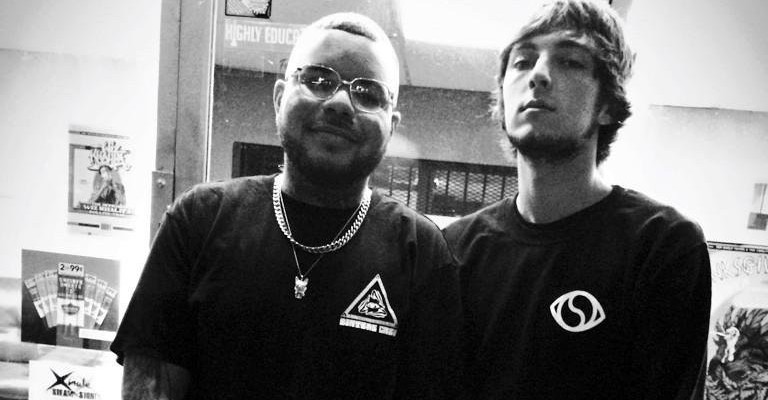 For part two of my spotlight on the newest Jet Life signee, Le$, we talked with Jet Life's lead pilot himself, Curren$y, and a certified Houston veteran, Chamillionaire, who so far is the only Houston rapper to win a Grammy (for his inescapable 2006 hit, "Ridin'," featuring Krayzie Bone). Catch up on part one here.
When Curren$y phones in, he's upset about a show on Discovery Channel wasting time talking about viral videos when they could be rebuilding old school Chevelles instead—but he soon gets down to business.
"Anybody can try to emulate a certain sound, but what was so important to me was the fact that Le$ is his own machine," says the rapper known as Spitta Andretti. Le$ reminds Spitta of a young him, "On the block, a true hustler is gonna recognize another hustler…I would've been a fool not to put him down before he destroyed my own shit! We're working on his DJ Drama tape right now (Olde English), but until then Le$ has enough free dope for the streets."
On bringing Le$ into the Jet Life family, Curren$y says, "It was fate, it all goes back to fate. Shit lined up the way it was supposed to."
Le$ and Chamillionaire first collaborated in 2011 on the Mr. Lee-produced "Shut It Down," also featuring Slim Thug. At the time, it was a big move for a young Le$; Chamillionaire is Texas' Andre 3000, a killer lyricist and sometimes singer who emerges from his bat cave on rare occasions to bless we mere mortals with a satiating verse until the next occasion he deems fit.
"I think Slim Thug's team probably expected me to say I was too busy when they reached out to me," admits Cham, "But I try to come through for them because I have always respected their independent hustle and the way they represent the culture."
Like everyone else we asked, Chamillionaire sees the move to Jet Life as perfect for Le$, "I remember having a conversation with Curren$y about embracing his independence right after he left his situation with Wayne, so it's good to see him successfully building his own Southern empire. Le$ will be a seamless fit with Jet Life."
We also asked Chamillionaire, an avid sportsman himself, for a scouting report on Le$. Here's what he gave us:
"I would say [Le$] is one of the most consistent upcoming artists from Texas when it comes down to the task of releasing music. There are so many things that can get in the way of an artist actually releasing content on a consistent basis, and I have never seen even the slightest sign of anything slowing him down. If this was basketball, he would probably be the first guy in the gym for practice and the last guy to leave so people shouldn't be surprised at any future success he has."
Here is part two of my exclusive interview with Le$:
Sama'an: What has the transition been like, moving from [Slim Thug's] Boss Hogg Outlawz to Jet Life?
LE$: Slim and BHO are my family, so BHO was always more personal than business. I kind of started doing my own thing when I dropped Exquisite, you didn't see anything about "BHO" on it. That's when the transition began. That was me showing that I could do it on my own and also the time when I started my "SxS" brand.
Sama'an: Tell us more about your friendship with Curren$y.
LE$: Me and Spitta were in New Orleans for All-Star Weekend. Being the real dude that he is, we were out and about, and he's introducing me to Snoop Dogg, Wiz Khalifa, and DJ Drama, as his artist and his brother. Spitta is making sure that I don't have to kiss no ass, he's making sure all I have to do is keep making good music. He's the shit, for real for real. He's really looking out for me. And we keep each other on our toes. We're really gonna do something special with the Jet Life brand. I don't think any situation in this industry could have arose that would've been better for me.
Sama'an: Your clothing brand, SxS, which stands for "Steak and Shrimp," is very clearly inspired by Pimp C. Why do you identify with Pimp C?
LE$: Pimp is my favorite (and awesome) for a number of reasons but most importantly I loved how he was an individual and stood by what he represented. He was unapologetically country, he was southern, his voice was different, his beats were different— no one can do what he did. He was a trailblazer and a trendsetter not afraid to speak his mind and be himself as a man and in his music, definitely my biggest influence and favorite artist.
$x$ (steak x shrimp) represents aspiration. Growing up in the south and being heavily influenced by our music and culture you hear the term "steak and shrimp" often. That's the meal you eat when you make it, or when you have a pocket full of money or when you're prospering in life. The $x$ movement represents that, it's about wanting the better things and wanting more. I wanted to do something fresh and new that really represented the third coast lifestyle and hustle but not in corny or stereotypical way. I look at it as a real movement for "us" and that can be any person who relates to what we're doing and this new era of southern hip hop and art.

Sama'an: You're originally from New Orleans; what's it like to find a home in the city you came from?
LE$: Really the craziest thing is seeing everything come full circle and to get that support from where I come from. It's dope! Nothing is cooler than that, nothing is better than that. My real fans who followed my words from the beginning know that I've never said I was born and raised in Houston, but Houston is my second home.
Sama'an: Sometimes you have to put yourself in a new environment so you can continue to grow.
LE$: Exactly, exactly. And it's not a bad thing, moving around just really helps you figure it out. You have to move outside your comfort zone if you wanna get to the next level. Everybody wants it, but it's like, what are you gonna do to make it happen? What separates you from the pack? What sacrifices are you gonna make? You have to make your moves. I still have my crib in Houston, but I had to move back to New Orleans to make this work the way it needs to work, ya know?
Sama'an: You put out quality music at a really prolific rate. How do you manage to do that?
LE$: Honestly? This is what we do. There's not a day that I wake up and I don't work on my rap stuff. If you call yourself a rapper and don't have a major label deal behind you and you're not rapping every day, you're not a rapper. The game is different now, it's quality plus quantity. You have to follow that formula or you'll get lost at sea.
You may hear a lot of music from me, but you still haven't heard my best. I make so much music that I can keep certain songs and save them for when I know it's the right time. I'm not doing this to be famous, I just want to make a living doing what I love– there's nothing cooler than that.
Sama'an: So what are you working on today?
LE$: I'm working on a project called Olde English. When I first went to school out in Houston, we used to go to the store and buy some 40s of Olde English, get drunk, and rap. My apartment used to be decorated with O.E. bottles. It's also partially inspired by UGK's Ridin Dirty. Even though it's always been my favorite album, I'm really going back and studying it so my project can emulate the feeling you get from listening to Ridin Dirty. And this record is a little more personal, you'll get to know me better, which is important because there will be a lot of new fans listening to me for the first time. And I'm going back to the producers I started with, guys like Stunt N Dozer, DJ Mr. Rogers, Cardo… I wanted to make sure the guys I started with are still part of what I'm doing. Oh, and we're doing this with DJ Drama.
this interview originally appeared on revolt.tv