Listen: Sama'an Ashrawi on AIATLA Live at SXSW
SMNTCS Conversations
Saturday, 23 June 2018
1522 Views
0 Comments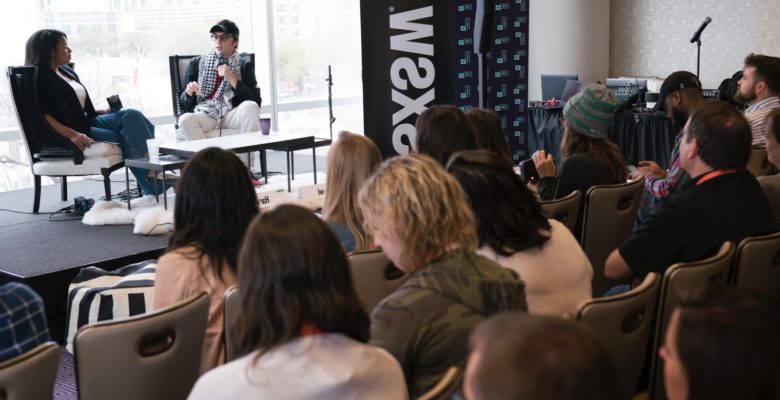 SMNTCS founder Sama'an Ashrawi guested on a live taping of Am I Allowed to Like Anything? (AIATLA) at SXSW 2018, being interviewed by host Darian Harvin.
Darian has a strong moral foundation that guides her infinite curiosity, it's what makes her such a great host. Her podcast, Am I Allowed to Like Anything? Darian has been a favorite of mine for a while. She manages to get some of the coolest behind-the-scenes guests, like Beyonce's stylist, Raquel Smith, and writer Ira Madison, so it was unquestionably an honor to get the ask from Darian.
The day of the taping, which was streaming live on the TuneIn app, I brought my sister along with me to share in the joy of the moment. It wasn't aallll joy, though; with less than an hour until the taping, after Darian and I had gone over her notes, I began to feel faint and light-headed. This was totally abnormal for me, I never get stage fright or anything like that. I walked down the hall and found an apple and a banana and a water fountain. Something about that combination evened me out and I recovered quickly. By the time Darian and I were called to walk onstage, I'd shaken off whatever that weird episode was.
The MC called our names and we walked out to find a 50-seat room nearly full. Darian flashed a smile at me and I turned on my Bool, Balm, Bollective-ness. We breezed through the 35-minute interview, and, when we got the signal that it was time to wrap it up, looked at each other like, "That's it?" We could have easily gone for another 35 minutes. The interview covered my life growing up in Texas as a first generation Palestinian-American, working with some of Hip Hop's legends, learning to become confident with your Milly Rock, and the glory of velour suits.
Journalists from Texas State University and the Austin Chronicle were in the house and turned out positive coverage of the podcast taping, shoutout to Alexandra White  and Clara Wang.
Kudos to Darian for nailing the interview, I hope she hosts a daytime TV talk show one day soon. I would watch it religiously. Wherever her career takes her, I know it will illustrious. I already can't wait to buy her memoir.
Stream the live podcast below and check out the annotations here.