Nardwuar vs. Sama'an Ashrawi: Annotated
SMNTCS Conversations
Monday, 28 November 2016
3230 Views
0 Comments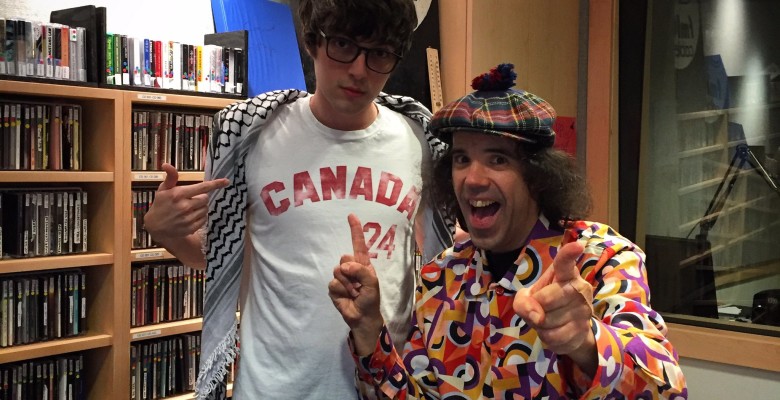 While I was in Vancouver, Nardwuar the Human Serviette invited me onto his radio show at CiTR in the amazing new Student Nest at the University of British Columbia for a guest DJ mix and interview. It was a true honor and pleasure! Nardwuar is one of my favorite journalists because his research goes unbelievably deep, which means he always gets the best responses from his subjects. What's crazy is: Nardwuar has been doing this stuff since way before the internet. That means he used to have to dig through actual books and newspapers and magazines, imagine that! During our talk, I said the first Nardwuar interview I remembered watching was his first interview with Drake, but, now that I think about it, I'm pretty sure it was his Odd Future interview. Tyler's reaction to the artifacts Nardwuar dug up is so genuine, how can you not love that?
[Check out the interview on Nardwuar's site here + download the podcast here.]
But it's more than just his research that made me a fan of Nardwuar, it's his dedication and persistence that I identify with. When Nardwuar told me he once, unsuccessfully, waited two days outside an arena for the chance to interview Kanye West, that made me feel a whole lot better about unsuccessfully waiting four hours outside a green room for an Erykah Badu interview.
I wanted to share the interview, which you can listen to here, along with a list of the people and places we referenced + the set list from my guest DJ mix. (PS there's about a 30 minute break in the interview for a phone interview with Chris Murphy)
My (mostly) Houston mix set list:
There were a bunch more songs I wanted to play, but we ran out of time. Here are the songs I brought with me that I didn't get to play:
Flying Lotus – Dead Man's Tetris featuring Snoop Dogg (DJ Candlestick & OG Ron C chop not slop mix) (*unreleased*)
"Hard Muthafucka" – Pimp C (unreleased demo)
"Waterfalls" – Fat Tony
"Slick" – The Hue ft Ladybug Mecca
"N Luv Wit My Money" – Paul Wall & Chamillionaire
"Mo City Don freestyle" – Z-Ro
"Swangin n Bangin" – ESG
"Paul Revere" – Beastie Boys (DJ Screw Mix)
"Do U Like What U See" – Fat Pat ft Big Pokey
I was wondering if Nardwuar was gonna turn it on, so-to-speak, for little ol' me– of course he did. The thing about doing an interview with Nardwuar is: he pulls up events or people from your past that you haven't thought about in so long, it catches you off guard. For that reason, I have a few addendums and corrections to make. In order, here are the people, places, and things we referenced:
Bun B (duh)
Truck Buck (leader of the Trill Gladiators)
The Marcus & Tayo Show

old friends and hosts of the hip-hop radio show for The University of Texas' KVRX when I was in college.

I gave Nardwuar a few insider facts to help with his Eric Andre interview.

I met Eric because Hannibal Buress used to let me hang out when I first moved to L.A.

Cody Cowan

manager of The Mohawk, who hooked up my first ever interview (with The Cool Kids).

Lance Scott-Walker

Author of the amazing book: Houston Rap.

I helped Nardwuar get his hands on a copy of the book.

Nardwuar was the genesis for the Parquet Courts x Bun B remix I facilitated.

read all about that here.

Nardwuar somehow found a picture of me DJing in my high school yearbook.

I started DJing at age 14.
It's an embarrassing picture.

Mendroza
Diana

Texas hip-hop enthusiast.

Gunpowder & Sky

The digital studio where I used to work. Founded by Van Toffler.

Drawn & Recorded

An animated series from Gunpowder & Sky, available for streaming via Spotify.

Narrated by T Bone Burnett.

I told the story of Bun bringing me along for his surprise performance with OutKast at Staples Center.
I also told the story of getting to go to Dave Chappelle's 40th birthday party.
The Blue Threads

I can't believe Nardwuar found out about these guys.
My good friend Brandon Custer's old band from high school.

They were 16 years old, playing blues licks like the second coming of Johnny Winter.

They actually did a show with Johnny Winter.

They disbanded years ago.

Lead singer / guitarist Dalton fell on tough times at a young age, haven't heard from him since college 🙁
Brandon, the drummer, now plays with Aaron Stephens.

The Sea-Ders

Lebanese psychedelic rock band from the 60s.
I was introduced to their music by my cousin Sana.

Black Thought + pickles (LOL)
Cali Green

A good friend and one of the hardest working producers I know.
Cali co-produced An Ode To Hannibal Buress along with Ginny Suss.

Mr. McCormack – The Glory

I'm embarrassed (in the best way) that Nardwuar dug this up.
I don't know where Prof McCormack is now, but he was one of my favorite professors.

Beanz N Kornbread

Arguably the most talented producers from Houston, top 3 for sure.

They produce silky smooth magic like this.

Beanz is in an awesome band called Khruangbin.

Nardwuar asked me to recommend some cool places in Houston, I said MacArthur Park but I actually meant MacGregor – yikes, my bad.

MacGregor Park is the home of Houston's most legendary basketball court.

This is also the location where I make a cameo in Trae's "I'm From Texas" video.

MacArthur Park is not a thing.

I think Nardwuar was referencing Adam Yauch Park in Brooklyn, which I visit on every New York trip, and not the Beastie Boys' Central Park concert that I attended in 2007.

Adam Yauch Park was recently the victim of pro-Trump, pro-Nazi vandalism. Makes me feel very sad.

I played "Those Lonely, Lonely Nights" and Nardwuar asked about the connection between that song + Gary Clark Jr.

That song served as Gary's walk-out music on The Sonny Boy Slim Tour.

Naturally I had to shout out the Sonny Boy's Squad:

Johnny Radelat, Johnny Bradley, Zapata, Kris, Mike, Gaston.

They let me film during a few dates on the Sonny Boy Slim tour in 2016. Big love to those guys.

Hope that footage finds its way online next year.

In our talk about legendary Houston rapper, Z-Ro, I mentioned a moment from Drake's first concert in Houston.

Intended as an interlude, Drake played Z-Ro's "Mo City Don" and lost control of the concert for a few minutes.

This is the video, you gotta watch.
That song should be the national anthem of Houston.

Kuykendahl. If you're from Houston, you get it. If you're not, don't worry.
Nardwuar asked which ward of Houston I've spent the most time in.

The answer is: Third Ward.

So many amazing people are from Third Ward.

Lightnin' Hopkins, Albert Collins, Johnny Copeland (mentioned previously), Fat Tony, Beyonce, & Solange.

Nardwuar asked about the women of Houston's rap scene.

I mistakenly said that the rapper Cl'che appeared on UGK's debut album, Too Hard To Swallow.

It's actually Infinity who appears on the UGK song "Cramping My Style".

I would love to know what she's been doing since 1992.

Nardwuar asked about Sparkle Burger, which is Bun's favorite burger joint.

It's located just north of Third Ward and is where I usually take my friends from out of town.

I was also asked about P. Terry's, which is an Austin burger chain.

However, the best burger in Austin can be found at Counter Cafe's West 6th Street location.

Bucees. Nardwuar is good. If you're ever driving across Texas and see a giant beaver in the sky smiling at you, stop.
He brought up Rakim and Mos Def (who now goes by Yasiin Bey), both of whom appear in my UGK documentary.
I guess he found this really blurry picture of me and Spike Lee.
I don't know how he found this, but I make a brief appearance in this Waka Flocka music video at the 2:16 mark.
I interviewed Bill Withers in 2015. I wish I could have a do-over for that one :/
The most Nardwuar obscure Beyonce thing I could think of was:

Her first appearance in a music video, when Destiny's Child featured on a Lil' O song.

I met The Weeknd through Dpat, whose song I included in my mix.
Bun invited me to have dinner with Macklemore once, at the height of Macklemore's fame and before the Grammy fiasco.

The most poignant moment of that dinner is when Macklemore asked Bun how he handled his fame during the success of "Big Pimpin."

Bun replied, and I'm paraphrasing, "As long as no one is intruding on your privacy, you have to sign every autograph and take every picture because you signed up for that when you recorded your first song."

I shouted out my old college roommate, Austin, who helped design this very site!
The experience of doing this interview at the University of British Columbia's student radio station made me nostalgic for my days at The University of Texas at Austin's Texas Student TV station, and the radio station, KVRX, that was right down the hall. That's really where I started. I had a platform, and that was all I needed. Our equipment was clunky, but the possibilities in my head were endless. I never felt limited. If you're a young kid out there who's found something you're passionate about, keep pulling that thread and let your curiosity and thirst for knowledge lead the way.
Anyway, thanks for listening to my interview with Nardwuar the Human Serviette, and thanks to Nardwuar for having me!
Doot doo.