Nardwuar vs Sama'an Ashrawi, Round 2
SMNTCS Conversations
Tuesday, 06 November 2018
1948 Views
0 Comments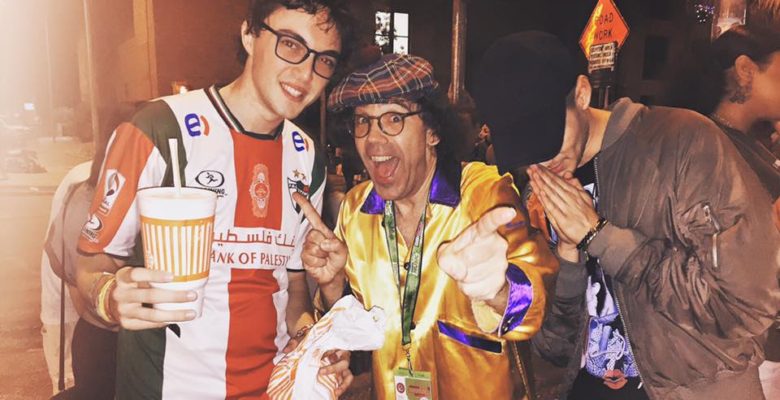 Sama'an Ashrawi returns to Nardwuar the Human Serviette's radio show on CITR for round 2, this time to discuss his new podcast, The Nostalgia Mixtape, and play some nostalgic tunes. Below is an abridged, annotated version of our conversation. Listen to the full conversation on iTunes here.
Here's my full set list, including songs we weren't able to get to because we ran out of time:
Khruangbin – Dance Maria
Sonny Stitt – East of the Sun (And West of the Moon)
Playaz Circle – "Duffle Bag Boy" ft Lil Wayne
Akeem "the Dream" Olajuwon & Hurt Em Bad  – "The Unbeatable"
Bombino – "Ahoulaguine Akaline"
Phool – "Barbed Wire"
Thundercat, DJ Candlestick & OG Ron C – "Tokyo" (ChopNotSlop remix)
The Blue Threads – "Sweet Irony"
Trapo – "The Red Carpet"
(The final four we ran out of time and couldn't get to.)
0:00 – "Dance Maria" by Khruangbin (Elias Rahbani cover) plays. Hear the Rahbani original below.
2:45 – "East of the Sun (And West of the Moon)" by Sonny Stitt plays
8:50 – Nardwuar references my Beto O'Rourke interview, which you can watch here.
10:03 – Once again, Nardwuar references his favorite street name in Houston: Kuykendahl, and asks if there's a connection between Kuykendahl and Khruangbin (lmao)
11:11 – Nardwuar mentions Khruangbin's Tiny Desk performance. Don't sleep on their Boiler Room set, though, which is how I first heard their Elias Rahbani cover, "Dance Maria." Jump to 31:51 below.
11:32 – Nardwuar asks why I chose this Sonny Stitt song. And the short answer is that it's not so much about Sonny Stitt but rather more about this jazz standard that I first heard being played by street musicians in Paris. Sonny's version is one of my favorites, though!
14:21 – I tell the story of how Playaz Circle & Lil' Wayne's "Duffle Bag Boy" brought me and my high school girlfriend together. True story!
21:06 – Nardwuar references us hanging out at DJ Khaled's concert at SXSW, which ended up being the catalyst for the Bun B x Parquet Courts collaboration. Wild, I know. I tell that story here.
23:40 – Nardwuar asks what Dpat and I were doing when he ran into us at SXSW a different year (or at least I think it was a different year).
24:28 – A shoutout to my unofficial godparents, Jack O'Dell and Jane Power!
27:04 – Discussion about Lance Scott Walker and his work preserving the history of Houston hip hop culture via his Houston Rap Tapes series.
27:48 – Fun fact: the video for DMX's "Party Up" was filmed in Galveston. Unbelievably random. Look closely and you'll see police and fire vehicles with "Galveston" written on them– not to mention the unmistakable aerial view of Galveston that opens the video.
28:08 – A mention from Nardwuar here of the Thundercat x DJ Candlestick chopped and screwed album that I helped put together and received a co-producer credit for.
29:57 – A very special shoutout to Sarah "Jazz" Montgomery!! She covered Nardwuar's 30th anniversary show for FADER.
30:22 – And a shoutout for our friend Diana in Austin, who manages Quin NFN.
32:45 – It's absolutely incredible that Nardwuar dug up a RAP SONG by HAKEEM OLAJUWON. I'm still shook that no one I know in Houston had ever mentioned it to me before.
40:30 – The story of my chance dinner with Jonathan Gold at Da Sung Sa.
42:33 –  An abbreviated telling of the story of my time spent with comedians Mo Amer, Jon Stewart, and Dave Chappelle. Mo Amer's Netflix special, Vagabond, is out now!
45:07 – Did you know that Madlib did a song and music video for a commercial for an Oxnard, California Toyota dealership? Absolutely nuts.
45:35 – Did I compare Shakespeare and Edmund Spenser to Jay Z vs Nas? Yes.
47:43 – A Bombino track that got me through my first experience being let go from a job.
52:13 – Here's an exclusive listen of an unreleased and upcoming single from beatmaker / rapper / singer Phool, blending Hindi melodies with Southern rap samples and hyper-feminist lyrics. Extremely my shit. Check out some of Phool's first publicly available tracks here.
56:10 – Shoutouts to The Blue Threads, KINETICA, and Amber Coffman, whose music we didn't have time to get to.
59:20 – A special shoutout to Kam Franklin and The Suffers who just released their new album, Everything Here, featuring Bun B and Paul Wall (among others). Shoutout to Kam for giving me a little cameo in the video for "Do Whatever."
59:47 – (Almost) Lastly, did you know that Destiny's Child's first feature appearance was on Houston rapper Lil' O's song "Can't Stop?" See below for DJ Screw's excellent mix of the song. There's even a music video! DJ Screw makes a rare cameo and seeing a young Beyonce singing for the fences is a trip. But it's just one of those songs that sounds so much better slowed down.
1:00:24 – Nardwuar references my interview with Thundercat about his J Dilla Moment with Herbie Hancock.
1:02:30 – A special shoutout to the crew who made The Nostalgia Mixtape happen: Jason Crow, Jasmine Chen, Nataly Menjivar, and Austin Eggleston of Triforce Digital Marketing.
1:02:54 – We end with "Tokyo" from Thundercat, DJ Candlestick, and OG Ron C's Drank album– co-produced by yours truly!