"Baby Please Don't Go" by Azraq, Kam Franklin & Kareem Samara
Music
Saturday, 30 January 2021
1170 Views
0 Comments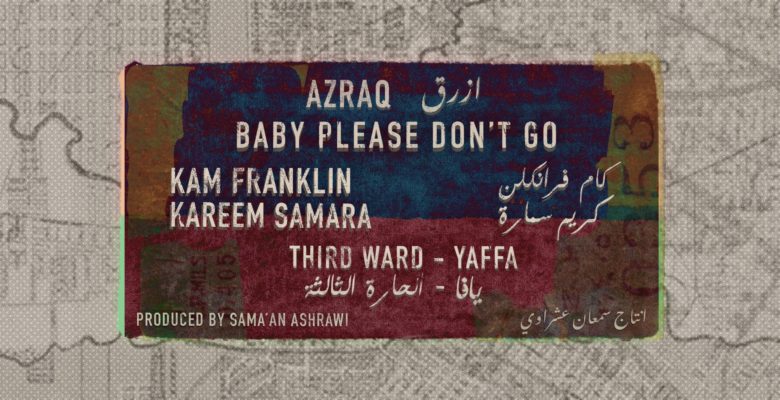 This one is exciting, my first full production: a cover of the classic Lightnin' Hopkins tune "Baby Please Don't Go" by Kam Franklin and Kareem Samara. You may know Kam from being the lead singer of The Suffers, or know Kareem from his work with Tom Morello's Firebrand records, and you may know me from just being kind of… around! But together we're calling this project Azraq, which is the Arabic word for blue or blueness.
"Baby Please Don't Go" is a traditional blues song that was first recorded and popularized by Mississippi Delta bluesman Big Joe Williams in 1935. Over the next 20 years his rendition would be covered by all the reputable blues guitarists of the era: John Lee Hooker, Big Bill Broonzy, Muddy Waters, and most famously (or maybe that's me just injecting my personal taste) by Lightnin' Hopkins, turning it into a blues standard. With its standard status cemented, the song made its way to the white rock bands of the 1960s, 70s, and 80s, being covered by the likes of The Doors, AC/DC, Van Morrison's Them, the Rolling Stones (who got their name from a Muddy Waters song), Aerosmith, and, as recently as 2013, by Tom Petty & The Heartbreakers. In 1995, the Rock and Roll Hall of Fame named it one of its 500 Songs That Shaped Rock and Roll. 
It's important to understand that anyone can have the blues, and that everyone does get the blues. The Blues are a fact of life. Giving his acceptance speech upon being inducted into the Rock and Roll Hall of Fame in 2005, Buddy Guy famously said, "If you don't think you've got the blues, just keep living." That's the genius of the blues, it is perhaps the most relatable of all genres.
There is a particular blues in being Palestinian. There is a way that the blues of being Palestinian feels closer to that of the genre's Black American originators' experience, a pain born out of slavery and segregation, than the blues of, say, your dog running away. Not that losing your dog isn't sad, but moreso that the Palestinian Blues is generational at this point, and comes from ethnic cleansing and displacement.
"A person who has been forced to leave their country," goes the first half of the definition of the word "refugee." That is the middle of our Venn Diagram. That's it.
As part of dreaming this idea up, I found out that Palestine used to have a railroad system. Trains being a recurring theme in the blues, I imagined what it would be like if there was a railroad that could transport the people of the Palestinian and Black diasporas to and from the lands they originate from. Not so different from Marcus Garvey's Black Star Line, which operated at the same time as Palestine Railways. In creating the artwork for "Baby Please Don't Go," I found an old ticket for Palestine railways, and asked artist Dana Durr to flip it into an album cover.
Our blues, though generational, is still relatively new, and it's also spread across the world in our diaspora. There are Palestinian communities existing from Chile to Australia, and there are also African communities within Palestine. Much like the Black people who picked up guitars at the end of the 1900s, we too have set our blues to music, but it occurred to me that our instruments had never played The Blues. It seems so obvious to me, and yet searching online I couldn't find any examples. That's why this collaboration works so well. Though the lyrics are not new, the feeling has always existed within us.
The mood Kareem's oud evokes? The Blues. The place Kam's voice goes? The Blues.
What's special about hearing Kam sing this song is that she recorded in the same Houston neighborhood that Lightnin' Hopkins called home for over 40 years: Third Ward. Which is why you'll hear Kam sing, "Back to Third Ward," in place of the original "New Orleans" lyric.
If you're reading this, that means you're alive, that means it's safe for me to assume you've had the blues at some point; for that reason, I'm fairly confident this song will make sense to you. But, if not… just keep on livin'.
Listen to the song below or choose your streaming service of choice here.
Find Azraq online:
Kareem's Bandcamp.
Sama'an's Twitter and Instagram.
PS shoutout to Jasmine Chen for mastering the song!