Hannibal accepts invitation to play alongside Drake on Team OVO in 2015 Houston Appreciation Weekend Softball Game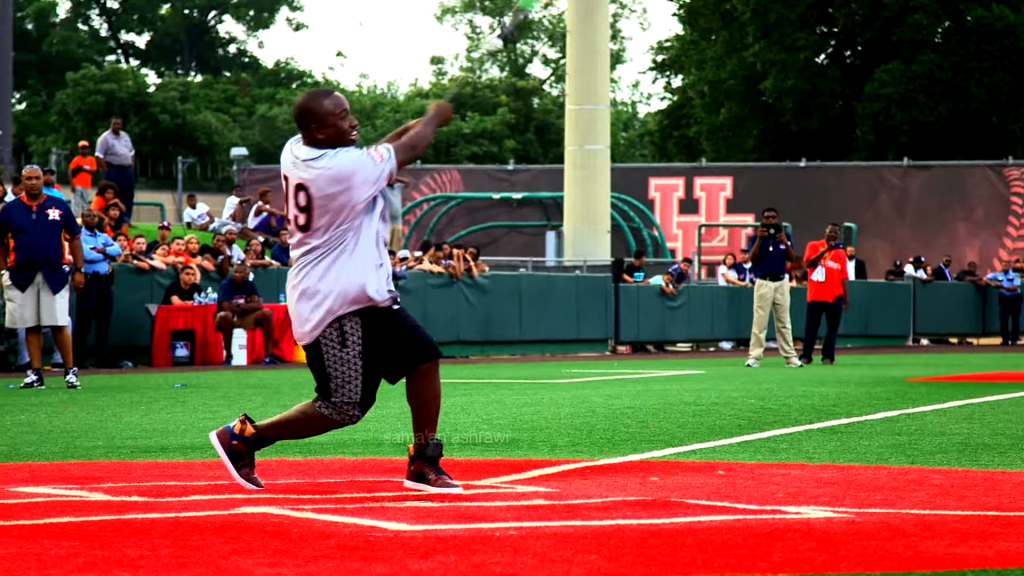 OVO extended an invitation for Hannibal Buress to play in their charity sotball game during Drake's second annual Houston Appreciation Weekend (H.A.W. '15). After some deliberation, Hannibal accepted.
Hannibal grounded out to 3rd in his only at bat, Drake went 0-for-2, in a 2-8 loss to Team Houston at The University of Houston's Cougar Field.
After finishing pre-game stretches and batting/throwing practice, Hannibal was thrilled to learn he would be playing Designated Hitter.
Drake was still smiling, though, because of Hannibal's exemplary sportsmanship. "It's very convenient. I can chill out, be a fan, root everyone on… First Team All-Offense," Hannibal announced.
Drake's first at-bat was rough. He looked poised to send a line drive to left-center field, but wound up with a ground out. The crowd went wild anyway.
Before Hannibal's first at bat, a fan yelled from the stands of Cougar Field, "Hey Hannibal!… You hit as good as them jokes?" To which Hannibal replied,  "WE'LL SEE."
So what if Hannibal grounded out to third? For one day, at least, Drake got to say he was just as good as Hannibal at something.
In recounting his at bat, Hannibal confided to Drake, "That sprint had me havin' to take my inhaler." Drake laughed before being interrupted by a Team OVO homerun. The only homer of the day for OVO.
"I feel like it was an honorable out," Hannibal proclaimed. Making me wish they made an award for that.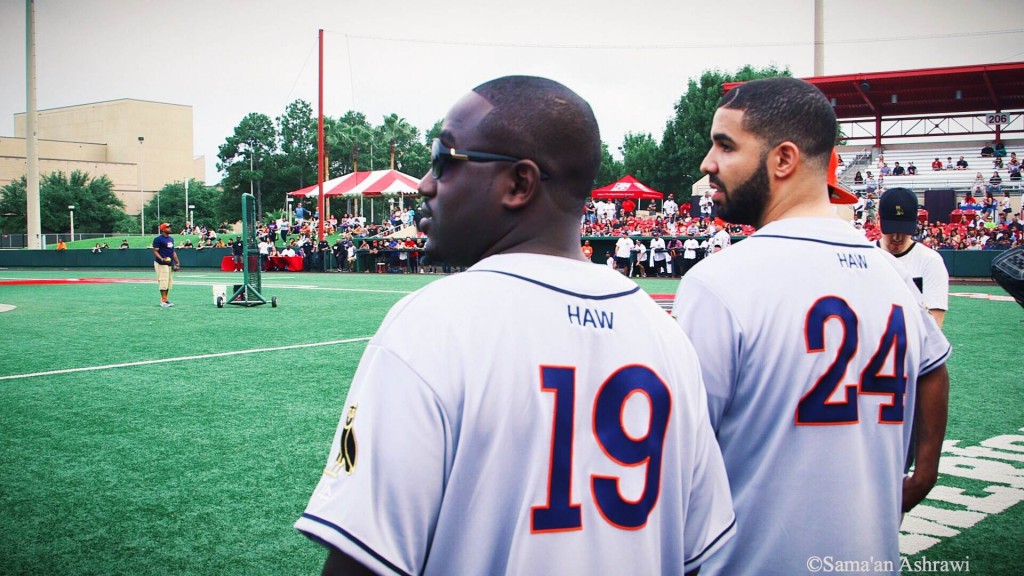 In the closing moments of their loss, Drake spoke glowingly of Hannibal's sportsmanship.
"On a gloomy day like today, you need a real, genuine winner out here to lift your spirits up, and Hannibal has been doing a great job of that," said Drake, "Morale is at an all-time high."
Hannibal's appearance during HAW '15 included a surprise roast of Bun B at the weekend's opening dinner. The bar has been set high for HAW '16, but I'm not too worried. The OVO crew will certainly find a way to out-do themselves, we can only hope to be there.
Watch Hannibal's Team OVO debut below: