DRANK: Thundercat Chopped And Screwed
Music
Tuesday, 22 August 2017
2631 Views
0 Comments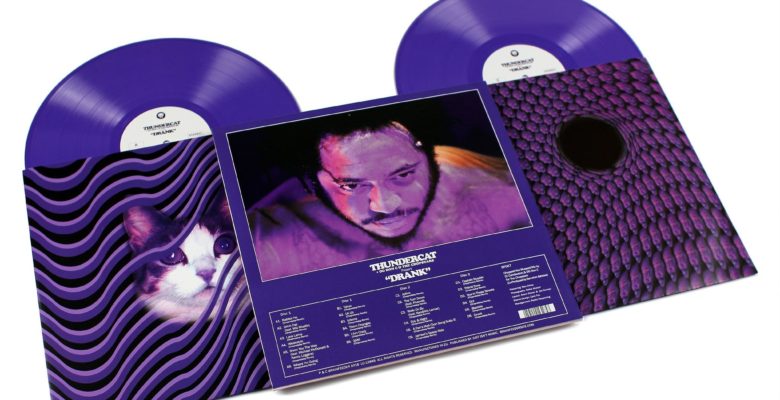 UPDATE: Order Drank by Thundercat & The Chopstars (DJ Candlestick and OG Ron C) on vinyl here to experience Thundercat chopped and screwed. 
Chopped and screwed torchbearers, OG Ron C and DJ Candlestick (of the Chopstars), have finally released Drank— their half-speed spin on Thundercat's critically-acclaimed third album, Drunk. When you hear Thundercat chopped and screwed, his vocal melodies and virtuosic finger-pickings become all the more impressive, new layers of sound are revealed, and Candlestick's chops emphasize moments you may have missed. Also Michael McDonald's voice sounds even more booming and powerful in this style. It's a project several years in the making, so here's an abbreviated version of the story.
Candlestick, OG Ron C, and myself have collaborated several times in the past: first, on a chop of Hannibal Buress' Norwegian number-one rap single, "Gibberish Rap," and again on the B-side to Parquet Courts' "Captive of the Sun," which would be the Chopstars' first-ever appearance on vinyl. Both projects were well-received by the people they reached, so I think the momentum is still building for Candlestick and OG to continue these kinds of out-of-left-field chops. I've always been interested in hearing non-typical music get the Chopped Not Slopped (a phrase the Chopstars use out of respect for DJ Screw because as they say "it ain't Screwed if Screw didn't do it") treatment, and I appreciate those guys for never thinking my ideas are too crazy.
[Watch my interview with Thundercat and Herbie Hancock here.]
This particular concept was born with the release of Thundercat's Where The Giants Roam EP and my personal favorite track, "Lone Wolf And Cub;" the moment I heard the drums on "Lone Wolf," I knew it would be a perfect candidate for the chopped treatment. I had already been bugging Flying Lotus and asking what he thought a chopped and screwed version of "Dead Man's Tetris" (from his 2014 album You're Dead!) would sound like, and he agreed that it would sound pretty cool. So when I saw Lotus and Thundercat at Eric Andre's birthday party several months later, I floated the idea by them and they smiled and nodded in agreement. "Check out the chopped and screwed visionary over here," Lotus joked, waving his thumb at me. That kind of response is all the motivation I need.
[Listen to Candlestick's chopped-not-slopped mix of "Dead Man's Tetris" here.]
So I hit up Candlestick about it, and, while the "Lone Wolf" chop still doesn't exist yet, when Drunk dropped, it sounded like a chopped and screwed lover's dream.
"Send me the mp3s," Candlestick said over text.
When he originally teased it, Academy Award-winning director of Moonlight, Barry Jenkins, was one of the first to respond:
And the rest is history. OG Ron C even freestyled over "Show You The Way," what an iconic moment.
Check out Thundercat chopped and screwed below and download it here— you might even hear OG teaching y'all how to pronounce my name in Ebonics. And don't forget to purchase the regular speed version of the album.
Thundercat chopped not slopped: