Two Minutes to Take-Off; Le$ Boards Curren$y's Jet Life
Chats
Tuesday, 29 March 2016
3546 Views
0 Comments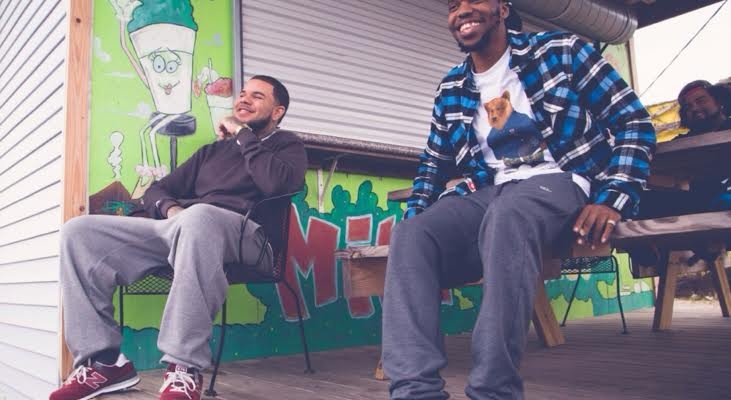 Slim Thug and DJ Mr. Rogers chime in for part 1 of Sama'an's spotlight interview with new Jet Life signee, Le$.
The journey of one Lester Mathews, better known by his stage name, Le$, has come full circle. Born and raised around a musical family in New Orleans, Louisiana, he moved to Houston for college, joined Slim Thug's Boss Hogg Outlawz crew, dropped a relentless stream of mixtapes, and now his hard work is really paying off: Le$ is going back to his hometown of New Orleans as the newest member of Curren$y's Jet Life roster. By our count, Le$ has released at 14 mixtapes over the last five years—some featuring collaborations with the likes of Bun B, Big K.R.I.T., Dom Kennedy, Mac Miller, Chamillionaire, while others he reigns in all on his own with equal comfort—most of them to the acclaim of local press in Houston. What's the craziest part of all this? He's just getting started.
What you need to know about the South is that the major cities are sprawling. Some folks from the south side of Houston never visit the north side and vice versa; by that same token, the suburbs bleed into each other and extend the reach of the city for miles and miles. There are no effective, efficient public transportation systems in most Southern cities, and the natural result is a vibrant car culture unique to each metro area. Car culture gives way to music that rides. As Southern cities grow and expand, the tempo of the music slows down; DJ Screw becomes a cult hero who goes on to change the sound of mainstream music forever.
Go past the suburbs of the South and you end up cruising by expansive fields, ranches, prairies, and swamps that ooze on as far as the eye can see. Explore these areas further and you wind up finding forests full of reclusive Klansmen, Black farming families, trailer parks, hunting leases, campsites, and the occasional ghost town. This is why music critics sitting in a New York City office could never understand albums like Big K.R.I.T.'s Live From the Underground; even revered journalist Robert Christgau called OutKast's Southernplayalisticadillacmuzik a "dud" when it first came out. To really understand an album—especially in a genre where geography is sometimes the only thing an artist has to claim as their own—it's imperative to spend time submersing yourself in those environments.
Enter Le$: rising out of the swamps of Louisiana and landing in the bayou city of Houston, Texas, with UGK in the tape deck of an old school BMW E36. Much like K.R.I.T., his music doesn't sound exactly like OutKast, 8Ball & MJG, Fat Pat, Scarface, or UGK, but he makes it very apparent that their music helped shape his sensibilities.
The two figures most responsible for his initial success in Houston are certified veterans: Slim Thug and DJ Mr. Rogers. Slim, whose debut album, Already Platinum, was executive produced by Pharrell Williams, brought Le$ to his Boss Hogg Outlawz collective on the strength of Rogers' word. Rogers, who currently mixes for Houston's 93.7 The Beat alongside shimmering host Devi Dev (who recently made headlines for being the only person Jay-Z followed on Twitter), is a heavyweight club DJ with regular gigs in almost every major city west of the Mississippi, and has credits on albums from Notorious B.I.G., Gwen Stefani, Beyonce, and a slew of Texas acts from Trae tha Truth to Slim Thug himself.
Rogers met Le$ nearly five years ago and was impressed enough with what he heard to send Le$ a batch of 10 beats.
"Two days later, he sent 10 songs back," says Rogers, "He wrote, recorded, and mixed them all by his self. It was just crazy. His studio etiquette and work ethic are so on point. He is always outworking everyone."
Rogers soon brought Le$ to Slim and the Boss Hogg himself saw the same determination in young Le$.
"More than anything, I saw dedication," says Slim Thug, "Le$ worked hard and that's hard to find. On top of that, his music is so dope. A lot of rappers don't even like to rap, but Le$ was always in the studio. I knew he was gonna get where he wanted to be."

Not too long after came the official Boss Hogg Outlawz debut from Le$, The Beautiful Struggle. Here we find Le$ taking FEMA and BP to task ("Muddy Waters"), trading verses with Slim over an LL Cool J sample ("G Shit") courtesy of Rogers, and a notable appearance from none other than Big K.R.I.T. on the Mookie Jones-assisted "Keep It Playa." What makes this K.R.I.T. appearance notable is that The Beautiful Struggle was released in July of 2010—well before Young Krizzle's ascension to folk hero status.
"He's a tastemaker," says Rogers, "He told me, '[K.R.I.T.] is about to be poppin'. He was right. He just has a sixth sense for that stuff."
Today, Le$ is on the phone with us in New Orleans working on Olde English, a collaborative effort with industry titan DJ Drama.
Sama'an: You come from a musical background, right? Tell us about that.
LE$: My uncle Mark Brooks who is a bass player from New Orleans has played all around the world and was in the (Academy Award-winning) movie Ray as part of Ray Charles' band. My father played the saxophone. Being in my family, music is something you had to do. I didn't wanna play the saxophone like my dad, but I got down with the drums.
Sama'an: Do you think your family's jazz background is why you end up picking a lot of jazzy beats? Especially on your recent projects, we hear a lot of saxophone and jazz drums.
LE$: Yeah, for sure because, first of all, I like to make music that I like to hear. Some of those beats I've been riding to for two or three years before y'all hear me rap over them. Some of the DJ Mr. Rogers beats on my projects are from, like, 2007.

Sama'an: Funny how that works out. What music was your dad real heavy on?
LE$: He was a big Miles Davis head for sure. He liked Louis Armstrong because that's a Louisiana thing, and definitely Wynton Marsalis. He was also really into Funk; he used to listen to Bootsy Collins, wear a Members Only jacket, and drive a 300zx [laughs]. He was cool, I can see why my mom fell for him [laughs]. The crazy thing is, me and him aren't really close at all, and yet he still had a huge influence on me. All he did was play music.
Sama'an: How did you and Curren$y first come into contact?
LE$: Me and Spitta have been in contact for years. Through my hustling, opening up for him at shows, our mutual friends, and being from the same place (New Orleans), he would always hear about me and we would always run into each other.
Sama'an: Fans have been asking y'all to collaborate for a long time.
LE$: It's always been love. Everybody had wanted us to work together. We'd seen the fans talk about it for a long time, we knew [they wanted to hear a collaboration], but Spitta was like, "Man, okay, we could do a song right now, but what is that gonna do? What impact is that gonna make? We could do something way bigger than that."
That's why we were always telling people, "Just chill out, we've got other stuff in the works."
Sama'an: In other words, you and Curren$y wanted that collaboration to be more strategic and less random– so it would make more sense?
LE$: Really, to me, it was whatever. It was really [Curren$y] who knew what he wanted to do. Everything that people see happening right now, he had all this planned already. When we sat down, everything that he said we were gonna do we've done. We've been executing a plan that he had with some ideas that I brought to the table and it's really been working.
Sama'an: Curren$y had a vision, he saw the bigger picture.
LE$: Oh yeah, he's a real smart dude. He definitely plans out and knows his moves before he makes 'em.
Sama'an: When was the first time you and Curren$y made a song together in the studio?
LE$: "Dollar Sign Migraine." One day, about two months ago, I woke up to a text message from Spitta like, "Yo, when are we gonna get together and do this Jet Life thing?" I was in New Orleans the next day. We sat down, talked it up, planned it out, and then we went to the studio and he threw on a Cardo beat, 45 minutes later we had a song, and I've been back in New Orleans ever since.
 this interview originally appeared on revolt.tv