My Village Voice Pazz & Jop Best of 2016 Ballot
Music
Thursday, 26 January 2017
1974 Views
0 Comments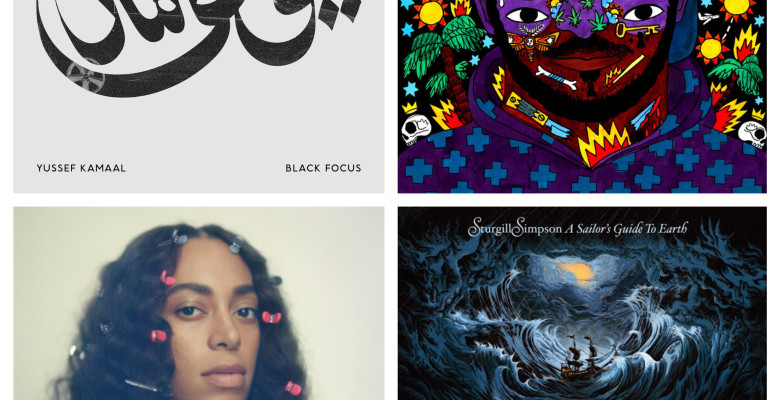 One really cool thing I have the honor and privilege of doing is voting in the historic, annual Village Voice Pazz & Jop Critics Poll, and 2016's ballot was easily the toughest to-date. So much good music came out. You're also allowed to vote for a song that came out in the previous year if you feel the song made its impact in the ballot year– that definitely doesn't make it easier. I agonized over my Top 10 Singles & Albums for weeks– had the deadline been one day later or sooner, I may have had a completely different lineup. 2016 sucked, 2017 seems like it won't be better, but one thing we have to turn to is music – thank goodness. The liveliest art comes from the most desperate situations and can provide the beat that the masses march to. I once interviewed Tom Morello in Ferguson, and he told me something to the effect of, "A politician can give a speech, but nothing sticks with you like a song. Music is our revenge."
So Anyway, here's my ballot + some words:
My favorite Singles of 2016:
1) Formation – Beyonce
>>>> No song (or video) was more important in 2016.
2) Alaska – Maggie Rogers
3) No Problems – Chance the Rapper featuring 2 Chainz & Lil' Wayne
4) Fallen – Jaden Smith
>>> For a while I was scared to publicly admit that I liked a Jaden Smith song, but after some reassurance from my friends, I'm here to say that this song is such a jam. One of those songs you can listen to on repeat without realizing it– and then once you do realize it, you listen to it a few more times because it's that good.
5) F.U.B.U. – Solange
>>>> It's sad that it still needs to be said, but it does, and Solange puts it right in the face of white people who cling to colorblind rhetoric in one breath and drop the N word in the next. The refrain of "Some shit is for us … This shit is for us" ain't no metaphor, it's a direct message to cultural pirates. You know, the folks who will take from a culture without concern for the struggles of the culture.
"Get so much from us / Then forget us / Don't feel bad if you can't sing along / Just be glad you got the whole wide world / This shit is from us / Some shit you can't touch"
Yep, I'm here for all of these lyrics.
6) Wolves – Kanye
7) Without You – Anderson Paak ft Rapsody
>>> This year wouldn't have been complete without another one of Rapsody's scene-stealing verses. If you were paying attention, she had the only guest verse on Kendrick's To Pimp A Butterfly (see: "Complexion"). Rapsody does an Usher box-glide over a Hiatus Kaiyote sample ("Molasses") courtesy of 9th Wonder, telling us about a man who took her love for granted. In 2016 we got an EP, Crown, from Rap— here's to hoping we get a full-length project in 2017.
8) Too Good – Drake featuring Rihanna
>>> Fun fact: Back when I used to DJ at Hollywood Hookah, in the 2014-2015 era, one of the servers, Jaffar, gave me a bunch of dancehall tracks to play. One of them was Popcaan's "Love Yuh Bad," which Drake borrows from here, which in turn made me a big fan of this song.
9) Dust – Parquet Courts
10) Sheath – sonder
>>> When those crickets start chirping at 3:21? Yeah that's the closest Timbaland feels a song has given me since… well… Timbaland. So good.
– "Nikes" – Frank Ocean
>>> "RIP Pimp C, RIP Trayvon" is one of the most relatable lines of my life. This is the "I'm like Che Guevara with bling on" of our generation.
– "Pull Up" – Abra
>>> Definitely going to make it onto my 2017 list, big thanks to Sarah for turning me onto Abra.
– "Rewind" – Kelela
>>> Came out in 2015 but hit me in 2016, otherwise I would have ranked it much higher. An absolutely infectious dance track that probably would have been the soundtrack to my middle / high school roller rink days.
– "Shotgun" – Little Simz featuring Syd
– "Lite Spots" – Kaytranada
– "Waterfalls" – Fat Tony
>>> Crazy Licensed to Ill vibes with this one.
– "Trippin On Space Jamz" – Arima Ederra
– "Caroline" – Amine
– "Ultralight Beam" – Kanye West featuring Chance the Rapper & Kirk Franklin
– "Nigga Blues" – Le$
– "Don't Hurt Yourself" – Beyonce featuring Jack White
>>> Sometimes titanic collaborations like this are a huge let-down, not here. Really my whole top 10 could have just been 10 songs from Lemonade, but I want to give other songs a chance.
– "Six Inch" – Beyonce
>>> I need to see Beyonce perform this with an orchestra while commandeering a velvet viking ship, it's that epic.
My Top 10 (11) Albums of 2016:
– Lemonade – Beyonce
>>> In 2016, there was the "Formation" music video and then there was everything else. When Beyonce sings, "Texas Bamaaaaa" and blasts off into outer space with that key change it was pretty much a wrap for the competition. As Beyonce sits atop a sinking New Orleans police car, we see a young black boy in a dance-off with militarized police who surrender by putting their arms up, "Stop shooting us" written in graffiti on a wall, and then the police car fully submerged. Make no mistake, the visuals accompanying this album are intended to be part of the way we consume and digest Lemonade. Maybe what scared white folks so much about her Super Bowl performance is that "Formation" is a direct call of empowerment to black women: "Okay, ladies, now let's get in formation (/information)." Some dummies thought "Daddy Lessons" came out of nowhere or felt out of place, but it was clear to those of us paying attention. Beyonce's native Third Ward has a very rich blues history— counting Albert Collins, Lightnin' Hopkins, and Johnny Copeland among its residents over the years. The song is a perfect blend of the country and blues influences no doubt present during Beyonce's upbringing— down the road from the Houston Livestock Show & Rodeo and literally around the corner from Albert Collins old home.
Lemonade is Beyonce at once reconciling her own personal tribulations and the tribulations of black folks in a country where, eight years in, white people were still shook at the sight of a black man in the Oval Office. Lemonade is a celebration of both Beyonce's southern roots and of Blackness in all its shades and forms. Lemonade is micro and macro; it's Beyonce giving us her own introspection within the context of Black life in these United (questionable) States of America. No two albums this year were more socially and politically relevant than the two that came from the Knowles sisters: Beyonce and Solange. That relevance only grows as we plunge into the depths of our new presidency.
– A Sailor's Guide to Earth – Sturgill Simpson
Some of Johnny Cash and Merle Haggard's best qualities as songwriters were their abilities to admit they'd been wrong about something, admit they'd learned a lesson, and then make you cry about it. The only album this year that made me cry was Sturgill Simpson's 'A Sailor's Guide to Earth'. Inspired by a letter his paternal grandfather wrote to his family from the trenches of Japan during WWII. He was convinced he wouldn't return to the U.S. with a pulse, so he penned a three-page letter to his newborn son, who he had yet to meet, in the hopes that the letter might give his son a strong moral compass despite growing up without a father. Thankfully, Papaw Simpson made it home, but life wasn't easy in Kentucky's coal-mining country. Simpson took his own stint in the Navy, got kicked out, bummed around his home town for a while, and spent a few years trying to make it in Nashville before packing up and driving out to Utah to work at a rail yard.
Inspired by his grandfather's letter, his wife's steadfast devotion and support, and his now busy life as a touring musician, Simpson wrote A Sailor's Guide To Earth as a letter to his own newborn son. It's a letter filled with wisdom that can only come from the school of hard knocks, "Most thoughts deserve about two or three more;" the common sense, cliche stuff, "Be kind, stay in school, stay off the drugs, and keep it 'tween the lines;" double-entendre-d lessons from his time in the Navy, "Sometimes Sirens send a ship off course / Horizon gets so hazy / Maybe get high, play a little GoldenEye / On that old 64 / And if you get sick and can't manage the kick / and get yourself kicked out of the Navy / You'll spend the next year trying to score / from a futon life raft on the floor / and the next fifteen trying to figure out what the hell you did that for;" a plea that his son will develop his own critical thinking skills and never sign up to fight in one of America's corrupt wars, "Well the bodies keep piling up / How many more of them are they gonna send? … Well, son, I hope you don't grow up / Believing' that you've got to be a puppet to be a man;" and then there was the line on the album's opener, "Welcome To Earth (Pollywog)", that made me cry, "And if sometimes daddy has to go away / Please don't think it means I don't love / Oh how I wish I could be there everyday / Cause when I'm gone it makes me so sad and blue / And holding you is the greatest love I've ever known / When I get home it breaks my heart / to see how much you've grown all on your own"
In a year where I moved far away from my parents and set off on my own voyage, it was this album, more than any other, that resonated with me so much more personally than any other. Many of us who had been fans of Sturgill's first two albums wondered if this album would be more of the same "outlaw country" critics had branded him with… And while we wouldn't have complained, what Sturgill gave us is the kind of progression that isn't confined to the bounds of genre— the closest he comes to the "country" sound is, ironically, on a Nirvana cover ("In Bloom"). The same beast (Nashville) that he once tried to tame is now miles behind him, and, like Andre 3000 once said, "Spaceships don't come equipped with rearview mirrors." A Sailor's Guide is a masterpiece, yes, but more importantly, Sturgill now has the license to take his sound wherever he wants. We should all just buckle up and enjoy the ride instead of telling him what he does or should sound like.
– Coloring Book – Chance the Rapper
– A Seat at the Table – Solange
>>> The influence of David Longstreth is most apparent on the album's opener, "Rise," which would have fit right in on Bitte Orca. Ironically, Longstreth doesn't have a credit on that song.
– Black Focus – Yussef Kamaal
>>> In retrospect, I should have ranked this album higher. Yussef Kamaal's Black Focus is the jazz album I've been waiting for our generation to produce. The drums delicate and brushy, but with a pulsing urgency that drives the album forward. It's album that recalls Idris Muhammad and Bob James' camaraderie on Power of Soul in 1974, but with the futuristic thinking of Herbie Hancock. BIG thanks to my old friend Cameron for showing me this album.
– The Life of Pablo – Kanye
– Malibu – Anderson Paak
– Human Performance – Parquet Courts
>>> Their most cohesive album to-date, even getting political on the based-on-a-true-story "Two Dead Cops." I can't wait for y'all to hear the "Captive of the Sun" remix with Bun B.
– 99.9% – Kaytranada
10) The Suffers – The Suffers
11) Blonde – Frank Ocean
>>> You thought the album was good at regular speed? Make sure you check out Slim K's chopped n screwed chopped not slopped mix, Purple Blonde.
Honorable mention:
– Telefone – Noname
–  Awaken My Love – Childish Gambino
– untitled unmastered – Kendrick Lamar
– Olde English – Le$
>>> Le$ is a bonafide songwriter and on Olde English he's finally found production cinematic enough to bring his visions to life.
– We Got It From Here – A Tribe Called Quest
– Loose Thoughts – Masego
– Ogopogo Punk – The Evaporators
– Stillness in Wonderland – Little Simz
– Views – Drake
– Throwback to the Future – Brookzill
– Temporary Fixes – Arima Ederra
– All My Demons Greeting Me As A Friend – AURORA
– aim – M.I.A.
– The Feminine – Anna Wise