On the third anniversary of Flying Lotus' odyssey of an album, You're Dead!, we're giving you DJ Candlestick's chop of "Dead Man's Tetris" featuring Snoop Dogg and Lotus' rapping alter-ego, Captain Murphy. The remix is aptly titled, "Purple Man's Tetris." You're welcome! The layered composition of Lotus' music lends well to the chopped and screwed chopped not slopped sound, revealing its intricacies in a way the listener can't appreciate at normal speed.
"Move back, bitch," rumbles OG Ron C in his iconic, booming, slowed-down voice. The real treat is the way the echo of Snoop's opening line ("Nickel-plated dimes / bang, bang — blow your mind") is stretched out, rewound, and chopped at the hands of DJ Candlestick. It's Candlestick operating at his most precise.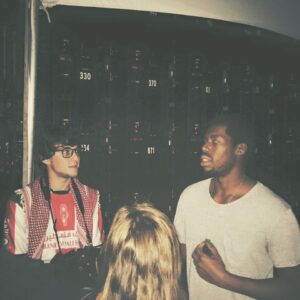 To tell the story of how it happened, we have to travel back to 2015 at Houston's stellar Day For Night winter festival; it was the festival's inaugural year and took place only feet from a surprisingly-still-in-use railroad track. I was rolling with Bun that night and he'd been picked by festival founder, Omar Afra, to introduce Flying Lotus' set by leading the festival crowd in a synchronized dab (no really, watch it here), so naturally, I tagged along. I'd met Flying Lotus before, but this was only my second time seeing him at work, and I'm always wary of encroaching too much on an artists' space, but it was just a handful of us and I was dying to ask him what he thought of the idea of chopping "Dead Man's Tetris". I'd been listening to the album a lot over the past year and I was very confident that "DMT" would be a winning chopped candidate. Also, DJ Candlestick and I had collaborated on one prior chop, Hannibal Buress' "Gibberish Rap", so I knew that if FlyLo gave the thumbs-up, I could make it happen.
Bun seemed to sense this moment coming — I like to think Bun has a higher sense of awareness than we mortals — and grabbed my camera, put the sling over his neck, and began filming the interaction between FlyLo and I.
"Duuuuuude," I said, "Do you think any of the tracks on the album would sound good chopped and screwed?"
FlyLo offered his idiosyncratic laugh and said, "I hadn't thought about that."
"'Chopped and screwed. 'Dead Man's Tetris'? Come on!" I replied.
Then I went into full pitch mode: doing the slowed-down sound effects with my mouth and using hand gestures for emphasis.
"Oh shit," FlyLo replied with an even fuller laugh. "Yeah, that would be dope." Then he joined in and made it a chopped and screwed duet, doing the sound effects with me and laughing all the way through. It was at that moment I knew he saw the vision.
So of course I hit up Candlestick surreptitiously to tell him about the whole experience, and, not long after, there was an mp3 in my inbox. I even got a shoutout from OG Ron C — and trust me when I say there's no cooler feeling than hearing OG mispronounce your name. His voice is so cool that however he mispronounces your name is how you have to say it from then on. That's just the rules. Sorry for any convenience this may cause you.
Not long after, I sent it to Flying Lotus for approval and he confirmed its dopeness. And now we're here.
Stream Purple Man's Tetris below: