On July 14th, 2016, Bun B joined Parquet Courts on The Late Show With Stephen Colbert to debut their remix of the Courts' "Captive of the Sun." Sifting through tweets on Twitter, folks just couldn't believe these two worlds had collided; while it is a fusing of artists known for two quite different sounds– the Parquet Courts Bun B collaboration was anything but random. This is the story:
Chapter 1: Nardwuar, DJ Khaled, and a Web Of Interconnectedness
This is one of those stories that makes you think about the consequences of your decisions and the way that events are threaded together.
In the weeks leading up to SXSW 2016, Bun was talking like he may not even make an appearance outside of his now annual birthday show, but, sure enough, he made his way to the capital city, and invited me to his hotel for dinner. As we laid out the options for the evening, I offered that he had to pop up at DJ Khaled's show. Sure enough, a message from Khaled came in; he wanted Bun to be one of several surprise guests for his Mass Appeal set at Austin Music Hall. Bun is a very efficient person, he wastes not a moment in his day-to-day itinerary; he's one of those rare people who always shows up right on time— rarely too early and certainly never late. We would be in and out of the show in under 45 minutes.
(watch Khaled and Bun's performance here.)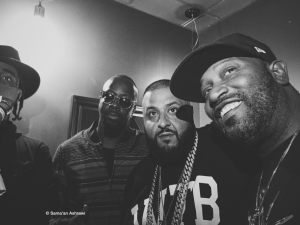 When we walked into the greenroom, Nardwuar was proposing an interview to the Snapchat king Khaled. In 2014, he'd interviewed Parquet Courts and gifted guitarist/singer Austin Brown, a Beaumont, Texas-native, Bun B's Trill album, signed, on vinyl. Bun hails from neighboring Port Arthur, so UGK was very present in Austin's upbringing– so much so that Austin's parents, who I met the day of the Colbert taping, are well aware of Bun and UGK.
I brought up this moment in our conversation, Bun nodded approvingly. He'd seen the interview and loved it. Nardwuar mentioned that the dudes Parquet really wanted to get Bun on a remix.
Bun replied, "Put them in touch with Sama'an, and we'll see what we can do."
I was freaking out in my head. I'd been a huge fan of the band ever since I'd seen their TV debut on Fallon in 2014. I'd always hoped that one day I'd get to work with them, but never did I imagine it would be on something as cool as this.
---
Chapter 2: Major Liaiser
After being put in touch via Nardwuar, Austin sends me two potential tracks he envisions for the remix. He asks which I prefer. Of the two, I pick "Captive of the Sun."
I thought Bun's voice would be a perfect match for the drum break after the first verse. The "Captive" break reminded me of the clip-clop drums on Slim Thug's Neptunes-produced "I Ain't Heard of That," which also features Bun. I didn't know at the time, but Austin would later tell me at the Colbert watch party that "Captive" is his favorite song he's ever written.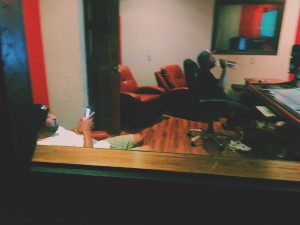 I had two weeks left in Houston before moving back to Los Angeles, so I told Bun that if we did one thing before I ventured westward, I wanted it to be this verse. On my final day in Texas, after a few missed connections with Bun, I set up camp at a coffee shop–flash drive in hand– around the corner from Bun's studio of choice and told him I'd stay there all day and night if it meant making the song happen.
As Bun turned into the driveway, a massive thunderstorm unleashed itself on the city. The UnderGround King brought the storm. We were in and out of the studio in under 30 minutes, which, in Texas, is enough time for a thunderstorm to completely disappear.
I'm heavily biased in this arena, but I thought Bun's verse was incredible and couldn't wait to share it with Austin and the band. Austin was in Paris waiting on his flight back to New York, so I hustled back to the coffee shop.
"I hope [Bun's verse] doesn't have any Game of Thrones spoilers," Austin said over text message while we waited for the files to upload.
I sent the email. Austin shot me back a message, "So fucking good."
Indeed.
---
Chapter 3: Real Life Magic
It's 9 AM, I'm eating pancakes and scrambled eggs at an overpriced midtown Manhattan diner around the corner from the Ed Sullivan Theatre.
Parquet Courts liked Bun B's verse so much that they invited him to debut the remix with them live on The Late Show; this was turning out better than I ever could have imagined.
I was too excited for sleep the night before, and what little sleep I did get was on my bro Taylor's not-made-for-sleeping-giants couch. It wasn't the greatest I've ever felt. Parquet's manager lets me in the side door, and, after scoping out the Colbert stage for logistics, I make a b-line for the green room couch, which is very comfy; there's a soft blanket with foot pockets, you gotta take luxury wherever you can get it.
One-by-one, the band shows up, then Bun and The Queen arrive, and now I can finally exhale all the superstitious anxiety that had been building up. This is going to happen. This is really going to happen.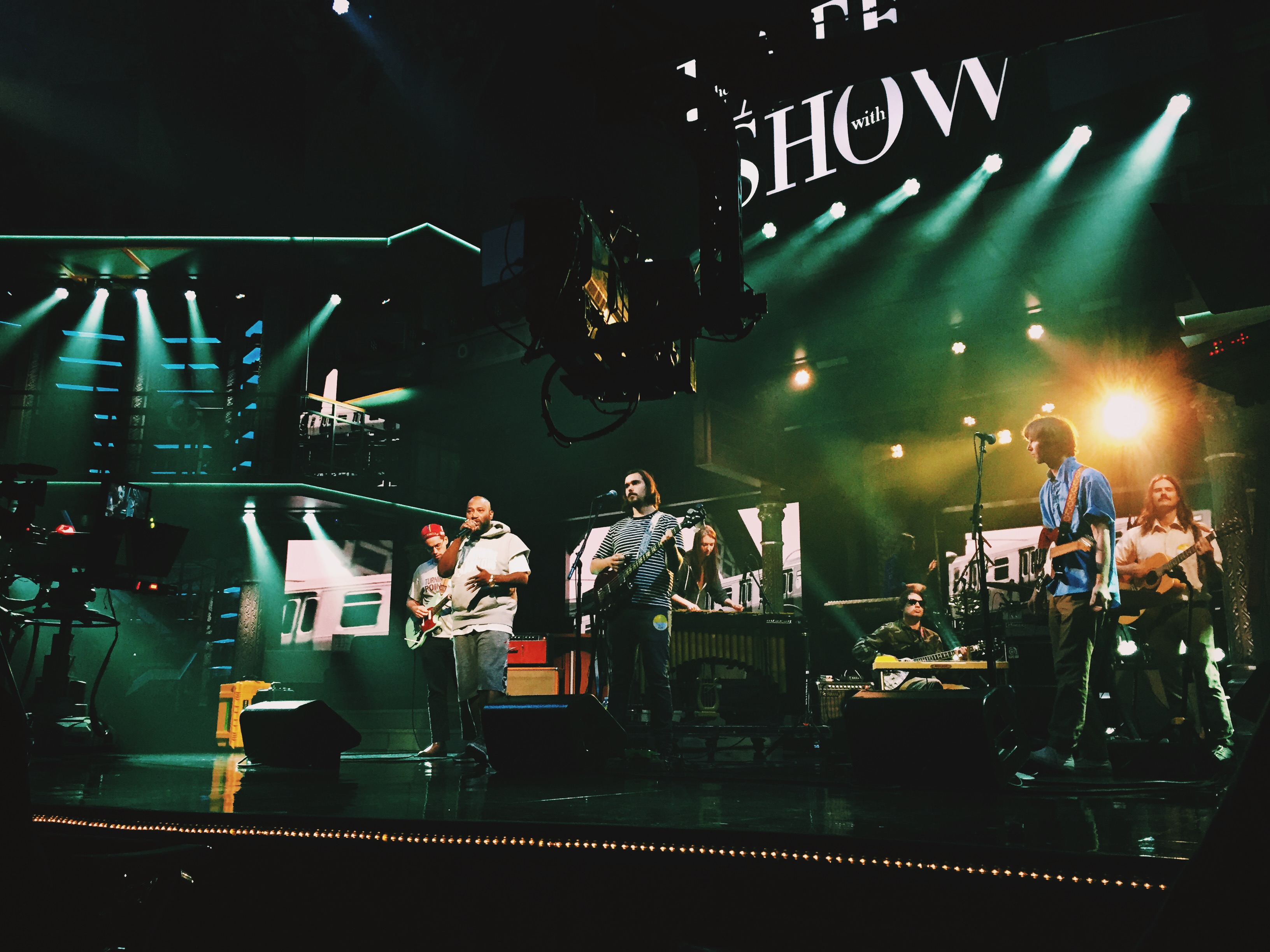 Rehearsal is the coolest thing ever. I'm a huge nerd for this kind of stuff, so just to be in on the decision-making process for stuff like which side of the stage Bun will enter from was a huge honor and privilege for me. Parquet brought in a 10-piece band for this performance. The vibraphone player, Shannon, drove in from Canada and is really nailing it. After getting the sound right, it's time for Bun to run through his verse a few times. I'm literally ecstatic watching this unfold. After each take, Parquet's manager, publicist, and myself whoop and holler. It gets better every time. The Parquet Courts Bun B collaboration was born.
Everyone involved in this thing is a professional in the true sense of the word, but once rehearsal ends the excitement really begins to build.
We have a two-hour lunch break, which is enough time for Bun to call in a barber to his hotel room and just enough time for me to wipe away the sweat from walking there.
We're less than 10 blocks away, but I don't feel great about leaving the hotel at 3:30 for a 3:45 call time. I'm getting nervous messages from Bun's publicist and Parquet's manager, Bun wonders aloud if we should get out and walk the last three blocks. I'm like, "Dude, you can't walk in sweaty. No way."
In typical Bun fashion, we walk in with just enough time for a team huddle before being escorted up the stairs to the stage. The cameras roll, Mr. Colbert gives the band their cue, and we're off. Austin's first verse starts off barely above a whisper; maybe it's nerves, maybe it's butterflies, it's hard not to be nervous with stage lights blasting and camera arms craning.
Bun's entrance is perfect, and so is the work of whomever is on camera duty for The Late Show. Bun's able to tone down his delivery to match the intensity of the song– he doesn't have to yell to make an entrance. Bun is masterfully good at this maybe because he's been doing this about as long as I've been alive. He builds his intensity as the song crescendos towards the end of his verse, and it's very clear that this energy gives Austin a huge boost for the third verse. I have goosebumps. Austin takes it to 11, he's singing like his life depended on it– and Bun is on ad-lib duty. The song ends with exhaled punctuation from Bun, "Triiilllll," and the Late Show crowd goes wild.
It was all worth it, if only to hear Stephen Colbert say, "Parquet Courts, everybody, and Bun B!"

Parquet Courts – Captive of the Sun (feat… by eidurrasmussen